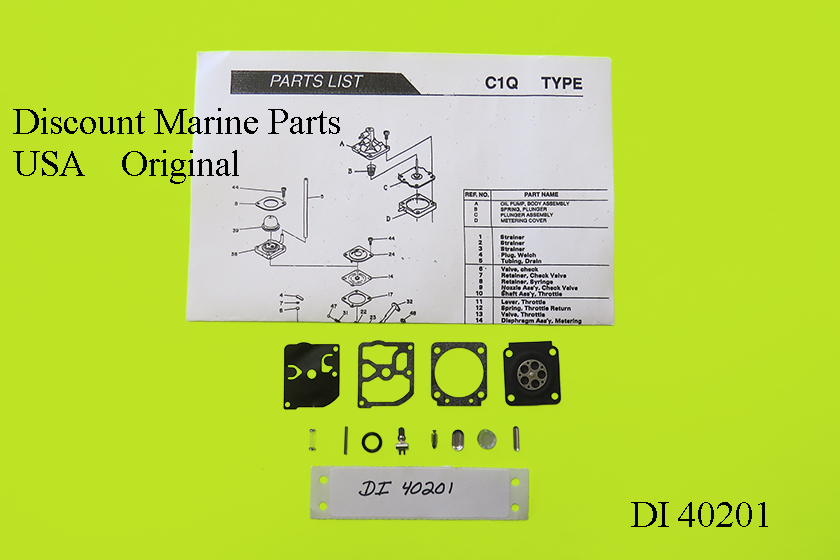  
Stihl Chainsaw 017 018 MS170 MS180 Carburetor C1Q-S43 C1Q-S57 C1Q-S137 Carb Kit DI 40201
DI 40201
You are purchasing a basic kit for Zama Carburetor
Please make sure you have a
Zama Carburetor, Some of these
Stihl models used a Walbro Carburetor
~
(Parts are not interchangeable)
~

You are purchasing a Zama Repair Kit

Used on Zama C1Q Series

This is an OEM (Original Equipment Manufactured)
Zama Rebuild Kit.
~
We provide the O'Ring that is not included with Zama kit.
Please make sure you have one of the following
Zama Carburetors before ordering:
~
C1Q-S43   C1Q-S43A   C1Q-S43B
C1Q-S57   C1Q-S57A   C1Q-S57B
C1Q-S137   C1Q-S137A   C1Q-S137B
C1Q-S137C
~
Application: Chainsaw:  Stihl Models
~
~
Zama Carburetor part numbers can be difficult
to determine looking at Carburetor.
They are broken up in to 2 groups.
1st group is the Body Type and the 2nd is the Model Number
The Body Type is stamped or embossed on one side & the Model Number is stamped on one of the other side.
The Model Number can be confusing because sometimes
the production date is attached to the end of Model Number.
Example: C1Q-H421011 - C1Q-H42 is the number
            you are looking for, 1011 is production date.                                 
Product Data
| | |
| --- | --- |
| Part Number | DI 40201 |
| OEM Manufacture | Zama |
| Product Description | Carburetor Kit |
| Product Application | Chainsaw |
| Condition | New |